A recent video once again confirms the atrocities committed by russians in the city.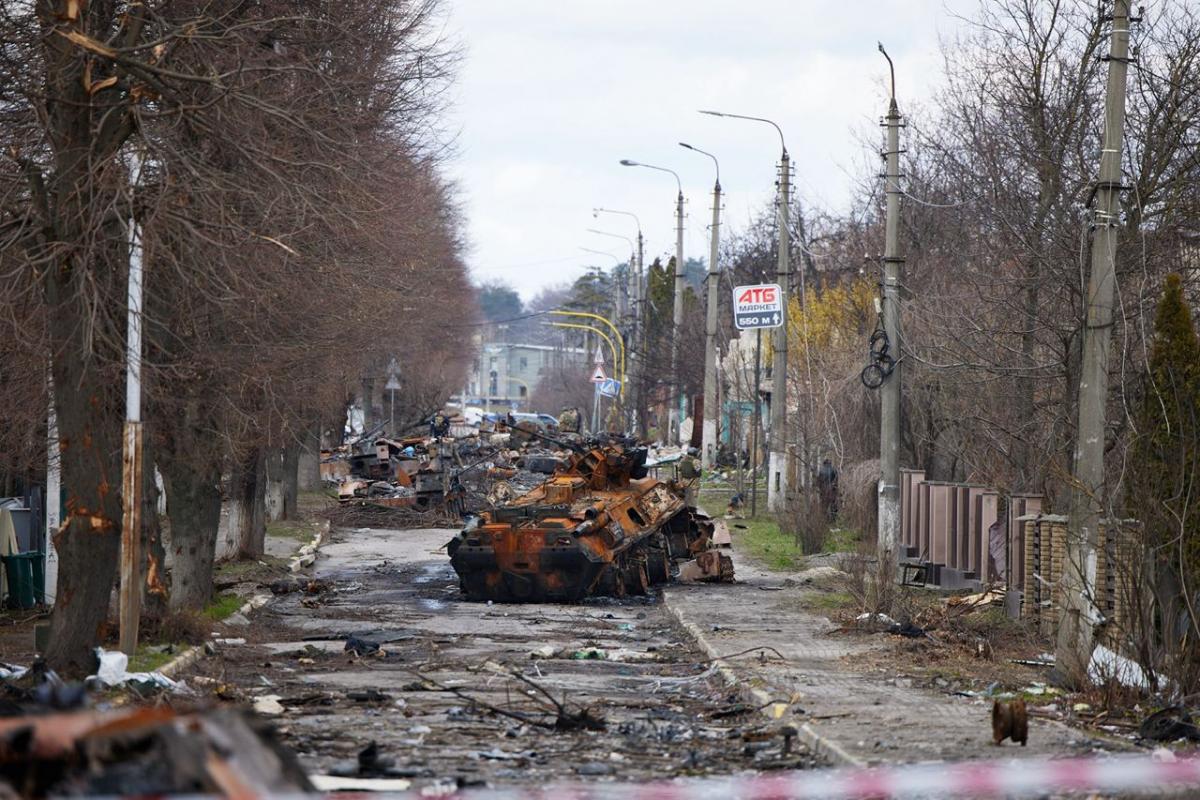 RosMedia published irrefutable evidence of killings of civilians by the occupiers in Bucha / photo president.gov.ua
The russian media Medusa published indisputable evidence of the killing of civilians by the russian occupiers in Bucha.
The portal received a video taken from a drone. Judging by the metadata, the footage was recorded from March 23 to 30, ie at a time when russian troops have not yet left the city. The recording clearly shows the bodies of killed people in the middle of Jablonska Street, as well as on neighboring streets.
Journalists from Medusa conducted a geolocation, and it completely coincided with the location of the bodies in the photo taken by Ukrainian reporters and police on April 1 and 2 after the russian army left Bucha. The video also clearly shows the equipment and the people around it. Combat vehicles are very similar to the BMD and BTR-D, which are in service with russian airborne units. The bodies of the killed civilians lie a few dozen meters from the equipment and soldiers.
In the footage taken on March 29 and 30, there is no military transport at the former site. It is important to note that March 30 is called the day of the russian Defense Ministry withdrawing troops from Bucha.
The war with russia: why video is so important
Earlier in russia, the main objective documentary evidence of the mass atrocities of the occupiers in the city were satellite images of Maxar. The mid-March photo shows the outlines of people's bodies on Yablonska Street.
However, pro-Kremlin bloggers allegedly used astronomical shadow analysis to try to prove that the satellite images were taken on April 1, after Ukrainian defenders arrived in Bucha. Medusa received alternative documentary evidence and independently dated the survey using astronomical measurements.
The video of the portal was sent by the russian nationalist Serhiy "Boatsman" Korotkykh, whose group is fighting on the side of Ukraine. Russian propagandists accuse her of the Bucha massacre. Fighters of the unit were constantly filming the positions of the Russians in the southern parts of Bucha from their own drone. Medusa called Korotkikh an "interested person", so she carefully analyzed the video. Conclusion: forgery is extremely unlikely.
The war with russia: the tragedy in Bucha
After the liberation of Bucha, numerous photos and videos showing the atrocities of the russian occupiers began to appear in the Kyiv region. In particular, the footage shows the bodies of dead civilians lying on the streets. Some have their hands tied and gunshot wounds to the head.
Russia's Defense Ministry denies involvement in the brutal killings and torture of civilians. Allegedly, the bodies were recently thrown out into the street after all russian units had completely left Bucha on or about March 30.