James Hippie reminded that it was russia that started the war in Ukraine.
Ukraine can "quite legitimately" carry out attacks on facilities in the russian federation. Violation of enemy logistics and destruction of enemy warehouses is part of the war.
This was stated by the Minister of the Armed Forces of the United Kingdom James Hippie on Times Radio.
"The fact is that Ukraine was a sovereign country that lived peacefully within its borders, and then another country decided to violate those borders and bring 130,000 troops into their country. This started a war between Ukraine and russia, and in the war Ukraine must cause "Strike deep into the enemy to attack its logistics lines, fuel supplies, ammunition depots, and that's part of the war," Hippie said.
According to him, "it is absolutely legal for Ukraine to aim deep into russia to disrupt logistics, which, if not disrupted, would directly contribute to deaths and massacres on Ukrainian soil."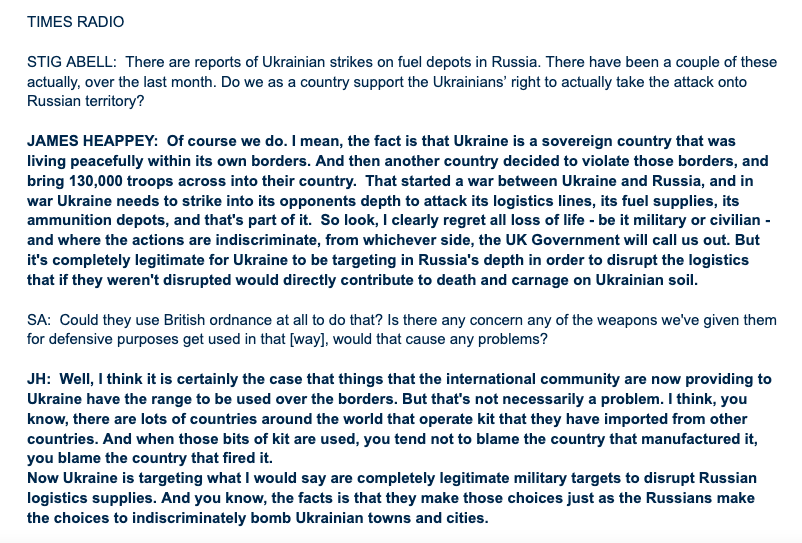 As previously reported, on April 1, it became known that an oil depot caught fire in the russian city of Belgorod. The governor of the Belgorod region, Vyacheslav Gladkov, said that two victims of the fire were oil depot workers.
Another trouble happened on the night of April 25 in the russian city of Bryansk – an oil depot broke out. Locals said they heard explosions. In connection with what happened in Bryansk, they began to evacuate people living near the burning oil depot.
Of course, in each of these cases, the russian authorities tried to blame Ukraine, and on social media, russian citizens became hysterical and hysterical, admitting that Ukraine is at war, not a so-called "special operation".